Daniel Ricciardo managed an MGUK failure to bring home his first win in Monaco, despite pressure from Vettel.
After being the fastest man on track in every session, Ricciardo was in a great position for the start of the race. He made it to turn one with no issues and even pulled out a gap to four time champions Vettel and Hamilton.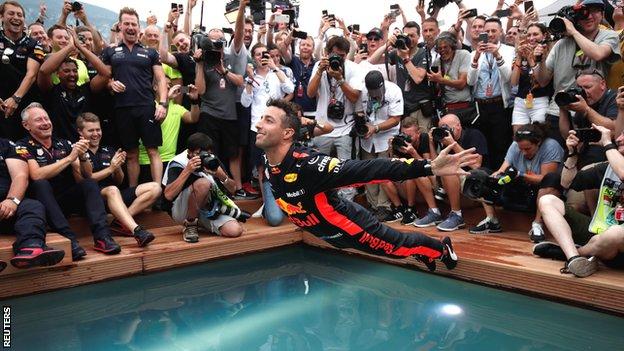 He dictated the pace, much to the dismay of Hamilton and kept the race under his control, but a potentially catastrophic issue reared its ugly head inside the first third of the race meaning the Australian only had the traditional combustion engine part of the power unit. Despite this, he still managed to keep his competitors behind him in a mostly uneventful race.
A late VSC looked like it could throw up some shenanigans, but a slow restart from Vettel sealed the deal. The incident causing this was local driver, Charles Leclerc, when his brakes failed and he ran into the back of Brendon Hartley.
The other Red Bull car of Max Verstappen was flying from the off, proving it is possible to overtake on the claustrophobic street circuit and finished ninth. Despite a clean race and lots of overtakes, it does prove it could have easily been a Red Bull 1-2.
Hamilton finished behind Vettel rounding out the podium, with many of the front runners struggling with tyres early on.
Raikkonen led Bottas to the finish, meaning the top five were as they were after qualifying.
One surprising result was Esteban Ocon, who not only laid down his best finish of the season in sixth, but also was running at very similar pace to Mercedes' Bottas.
Heartbreak of the day was for Fernando Alonso, who retired late into the race with a gearbox issue, ending his point scoring streak.
Today's result for Ricciardo means he moves to third in the championship with the top three drivers all having two wins this year. I'd like to imagine this means a three way fight for the championship, but with more power reliant circuits to come in the latter half of the year, Red Bull are unlikely to match pace later on.